CREATING A NEW WILDLIFE CORRIDOR IN VICTORIA'S CENTRAL HIGHLANDS
380 CATHEDRAL LANE, TAGGERTY
Pioneering plan for the Little River Valley
In Victoria's Central Highlands, the small town of Taggerty lies within the scenic Acheron Valley at the confluence of the Acheron and Little Rivers.
Framed by the Black Range to the west and the Blue Range to the east, the dominant feature of the landscape are the dramatic volcanic peaks of the Cathedral Range, which rise steeply to the south.
Behind Cathedral and beneath the Blue Range lies the pristine Little River Valley where, in 2022, a 100-acre property was offered for sale.
The property's strategic location, and potential to strengthen bio-links to the Cathedral Range and Blue Range State Parks, brought a group of concerned locals and environmental philanthropists together to secure it for nature and for the enjoyment of  future generations.
CONTEXT
For decades, 380 Cathedral Range was owned and lovingly cared for by a Czech family who found refuge here as survivors of the Holocaust.
While the family was committed to caring for the environment, they needed to sell, putting 380 Cathedral Lane on the market with a relatively short deadline for sale.
Recognising the pressures the Little River Valley faces from logging and land clearing, a group associated with the Rendere Trust borrowed funds to secure the property within a not-for-profit organisation called Cathedral Wildlife Ltd.
The team are now inviting other interested parties to help pay down loans so that they focus on expanding the corridor (see below).
Towards a greater vision
Now that the 100-acre Cathedral Lane property has been secured for wildlife, the founding members of Cathedral Wildlife Ltd have set in motion a process to engage with, and attempt to connect, two adjoining properties equalling 526 acres, which have already been covenanted through Trust for Nature. There is also strong community interest in supporting the venture and strengthening the corridor. This means investors in 380 Cathedral Lane will be playing a pioneering role in establishing an expansive wildlife corridor.
Flora and fauna
The Little River Valley is home to a diverse range of ecological communities, including important riparian vegetation along the banks of the river, wallaby and kangaroo grasslands, rare wildflowers, orchids and fungi.
The valley also provides critical habitat for threatened fauna including Platypus, Golden sun moths, the Greater glider, Sooty owl, Powerful owl, Brush-tailed phascogale and critically-endangered Leadbeater's possum.
Image right: Blue Sun Orchids in native grassland – photo by Ann Jellinek.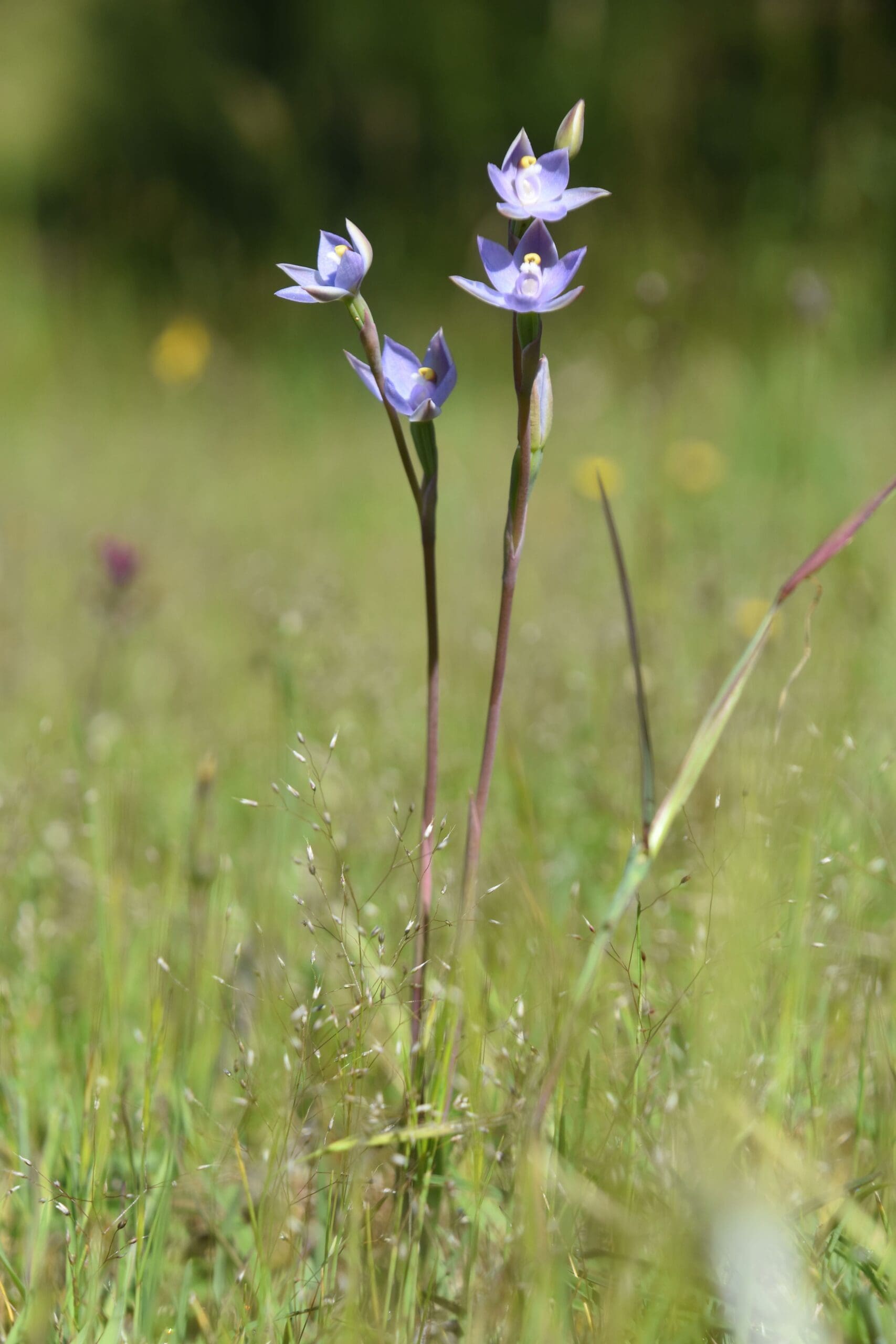 Social and economic contribution
Beyond the spatial footprint of the initial 100-acre property, Cathedral Wildlife Ltd aims to empower individuals and communities to participate in private land conservation.
The management team, who have expertise in sustainable land management and community engagement, will partner with various organisations, including Traditional Owners, to provide information and education to local communities about the importance of the property and the restoration, protection and conservation of the Little River Valley.
The team are also exploring productive uses for the land, including the establishment of a social enterprise and a natural seed bank.
Cathedral Wildlife Ltd is registered with the Australian Charities and Not-for-profits Commission. Cathedral Wildlife Ltd recognises the Taungurung as the first people of the rivers, valleys and mountains of the Acheron Valley and beyond. We respectfully acknowledge the Taungurung people and pay our respect to their Elders past, present and emerging. ABN: 20 657 811 802